__________________________________________________________________________________________________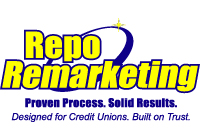 Repo Remarketing, Inc.
With Repo Remarketing, the power of aggregation brings Credit Unions together under one umbrella, nationwide. Repo Remarketing provides a trustworthy bridge to recover and remarket inventory efficiently using proven industry-standard principles, with advanced technology adapted expressly for Credit Unions.
Combining the volume of our credit unions with industry-proven liquidation solutions is our focus, and delivering a higher bottom line is our service. Repo Remarketing is the leading credit union centric recovery and remarketing company, strategically positioned to recapture your "bottom line" and deliver higher returns.
Realize higher overall results: units are recovered faster with top agents, and sold for more at regional auctions in premium lanes. Lower your expenses with Repo Remarketing's National Account rates, and reduce your depreciation through streamlined timelines. Stay in command with the REPO Management System (RMS) where you can benchmark results to the market and to peers. Join other Credit Unions to SAVE your staff time, and MAXIMIZE your returns!
Services Include:

-Repossession/Recovery -Inspection

-Remarketing -Vehicle Valuation

-Transportation -All Post Sale Reporting
Claudia Plascencia
Vice President, Sales and Operations
REPO REMARKETING INC
P: 916.725.2708 ext.105
C: 916.764.8595
F. 916.725.2718
___________________________________________________________________________________________________
Western American Auction Services, Inc.
Repossession, Skip Trace and Liquidation Services
Contact : Andy Hooper
BP# 800-835-9183
FX# 800-260-1742
___________________________________________________________________________________________________
* Upgrade with a photo or logo! *
Basic Ad
Company Name
Description - Tudo Bem Tudo Bem Tudo Bem Tudo Bem Tudo Bem Tudo Bem Tudo Bem Tudo Bem Tudo Bem Tudo Bem
Tudo Bem Tudo Bem Tudo Bem Tudo Bem Tudo Bem Tudo Bem Tudo Bem Tudo Bem Tudo Bem Tudo Bem
Tudo Bem Tudo Bem Tudo Bem Tudo Bem Tudo Bem Tudo Bem Tudo Bem Tudo Bem Tudo Bem Tudo Bem
Address
BP# 555-555-1212
FX# 555-555-1212
Email Address
Web Address
Rate This Agent
___________________________________________________________________________________________________
* Upgrade with a photo or logo! *
Basic Ad
Company Name
Description - Tudo Bem Tudo Bem Tudo Bem Tudo Bem Tudo Bem Tudo Bem Tudo Bem Tudo Bem Tudo Bem Tudo Bem
Tudo Bem Tudo Bem Tudo Bem Tudo Bem Tudo Bem Tudo Bem Tudo Bem Tudo Bem Tudo Bem Tudo Bem
Tudo Bem Tudo Bem Tudo Bem Tudo Bem Tudo Bem Tudo Bem Tudo Bem Tudo Bem Tudo Bem Tudo Bem
Address
BP# 555-555-1212
FX# 555-555-1212
Email Address
Web Address
Rate This Agent
___________________________________________________________________________________________________
* Upgrade with a photo or logo! *
Basic Ad
Company Name
Description - Tudo Bem Tudo Bem Tudo Bem Tudo Bem Tudo Bem Tudo Bem Tudo Bem Tudo Bem Tudo Bem Tudo Bem
Tudo Bem Tudo Bem Tudo Bem Tudo Bem Tudo Bem Tudo Bem Tudo Bem Tudo Bem Tudo Bem Tudo Bem
Tudo Bem Tudo Bem Tudo Bem Tudo Bem Tudo Bem Tudo Bem Tudo Bem Tudo Bem Tudo Bem Tudo Bem
Address
BP# 555-555-1212
FX# 555-555-1212
Email Address
Web Address
Rate This Agent
___________________________________________________________________________________________________
* Upgrade with a photo or logo! *
Basic Ad
Company Name
Description - Tudo Bem Tudo Bem Tudo Bem Tudo Bem Tudo Bem Tudo Bem Tudo Bem Tudo Bem Tudo Bem Tudo Bem
Tudo Bem Tudo Bem Tudo Bem Tudo Bem Tudo Bem Tudo Bem Tudo Bem Tudo Bem Tudo Bem Tudo Bem
Tudo Bem Tudo Bem Tudo Bem Tudo Bem Tudo Bem Tudo Bem Tudo Bem Tudo Bem Tudo Bem Tudo Bem
Address
BP# 555-555-1212
FX# 555-555-1212
Email Address
Web Address
Rate This Agent
___________________________________________________________________________________________________
* Upgrade with a photo or logo! *
Basic Ad
Company Name
Description - Tudo Bem Tudo Bem Tudo Bem Tudo Bem Tudo Bem Tudo Bem Tudo Bem Tudo Bem Tudo Bem Tudo Bem
Tudo Bem Tudo Bem Tudo Bem Tudo Bem Tudo Bem Tudo Bem Tudo Bem Tudo Bem Tudo Bem Tudo Bem
Tudo Bem Tudo Bem Tudo Bem Tudo Bem Tudo Bem Tudo Bem Tudo Bem Tudo Bem Tudo Bem Tudo Bem
Address
BP# 555-555-1212
FX# 555-555-1212
Email Address
Web Address
Rate This Agent
___________________________________________________________________________________________________
* Upgrade with a photo or logo! *
Basic Ad
Company Name
Description - Tudo Bem Tudo Bem Tudo Bem Tudo Bem Tudo Bem Tudo Bem Tudo Bem Tudo Bem Tudo Bem Tudo Bem
Tudo Bem Tudo Bem Tudo Bem Tudo Bem Tudo Bem Tudo Bem Tudo Bem Tudo Bem Tudo Bem Tudo Bem
Tudo Bem Tudo Bem Tudo Bem Tudo Bem Tudo Bem Tudo Bem Tudo Bem Tudo Bem Tudo Bem Tudo Bem
Address
BP# 555-555-1212
FX# 555-555-1212
Email Address
Web Address
___________________________________________________________________________________________________
* Upgrade with a photo or logo! *
Basic Ad
Company Name
Description - Tudo Bem Tudo Bem Tudo Bem Tudo Bem Tudo Bem Tudo Bem Tudo Bem Tudo Bem Tudo Bem Tudo Bem
Tudo Bem Tudo Bem Tudo Bem Tudo Bem Tudo Bem Tudo Bem Tudo Bem Tudo Bem Tudo Bem Tudo Bem
Tudo Bem Tudo Bem Tudo Bem Tudo Bem Tudo Bem Tudo Bem Tudo Bem Tudo Bem Tudo Bem Tudo Bem
Address
BP# 555-555-1212
FX# 555-555-1212
Email Address
Web Address
___________________________________________________________________________________________________
* Upgrade with a photo or logo! *
Basic Ad
Company Name
Description - Tudo Bem Tudo Bem Tudo Bem Tudo Bem Tudo Bem Tudo Bem Tudo Bem Tudo Bem Tudo Bem Tudo Bem
Tudo Bem Tudo Bem Tudo Bem Tudo Bem Tudo Bem Tudo Bem Tudo Bem Tudo Bem Tudo Bem Tudo Bem
Tudo Bem Tudo Bem Tudo Bem Tudo Bem Tudo Bem Tudo Bem Tudo Bem Tudo Bem Tudo Bem Tudo Bem
Address
BP# 555-555-1212
FX# 555-555-1212
Email Address
Web Address
___________________________________________________________________________________________________
* Upgrade with a photo or logo! *
Basic Ad
Company Name
Description - Tudo Bem Tudo Bem Tudo Bem Tudo Bem Tudo Bem Tudo Bem Tudo Bem Tudo Bem Tudo Bem Tudo Bem
Tudo Bem Tudo Bem Tudo Bem Tudo Bem Tudo Bem Tudo Bem Tudo Bem Tudo Bem Tudo Bem Tudo Bem
Tudo Bem Tudo Bem Tudo Bem Tudo Bem Tudo Bem Tudo Bem Tudo Bem Tudo Bem Tudo Bem Tudo Bem
Address
BP# 555-555-1212
FX# 555-555-1212
Email Address
Web Address
___________________________________________________________________________________________________